Panadol Extra 500 mg 24 tabs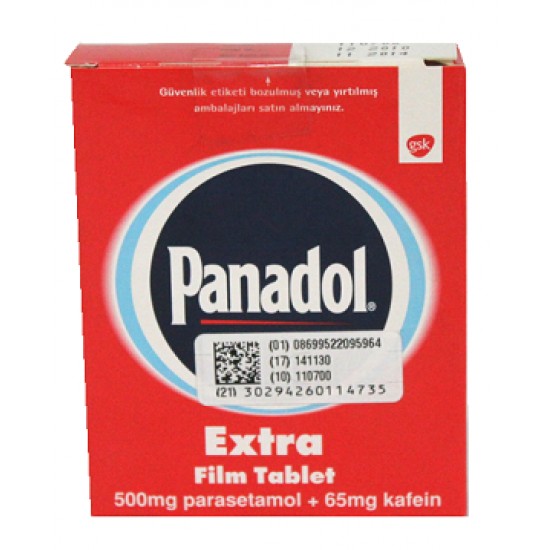 Panadol Extra 500 mg 24 tabs
Panadol Extra 500mg 24 Tabs


Panadol Extra is used for fast and effective temporary relief of pain and discomfort associated with:
Headache/ Tension Headache
Migraine Headache
Osteoarthritis/ Arthritis
Cold & Flu Symptoms
Period Pain
Muscular Aches
Sore Throat
Toothache
Panadol Extra is 30% more powerful when compared to standard paracetamol. Panadol Extra tablets are used for the relief of headache, migraine, backache, rheumatic pain, muscle pain, neuralgia, toothache and period pain.
Panadol Extra also relieves discomfort in colds, flu, and sore throat and help reduce temperature.
Panadol Extra tablets contain two active ingredients. Paracetamol is a pain reliever and reduces your temperature when you have a fever. Caffeine acts to further amplify the analgesic effect of paracetamol.
Active Ingredient: 500 mg paracetamol, 65 mg caffeine

Active Ingredients: Paracetamol/Cafein

Manufacturer: Glaxosmithkline

Origin: England


Pharmacological effect: Panadol Extra contains paracetamol and caffeine. This drug is absorbed better and faster than the usual paracetamol. Caffeine increases the effect of paracetamol in this medication.

Usage: Panadol Extra is used in therapy of headaches, migraines, rheumatic ache, back pain, tooth and period pain. This medication is also used to reduce the fever.

Aftereffect: Using Panadol Extra you may encounter different adverse effects. Call the doctor if you feel the following effects: allergic reactions, peeling of the skin, skin irritations, problems with breathing, unusual bleeding, weight changes, loss of appetite and yellow eyes and skin.

How to administer (optionally): Administer two tablets every 4 hours. Take the tablets with water. Don't drink too much caffeine drinks during the therapy.