Kenacort-A 0.1% Pomade 20 g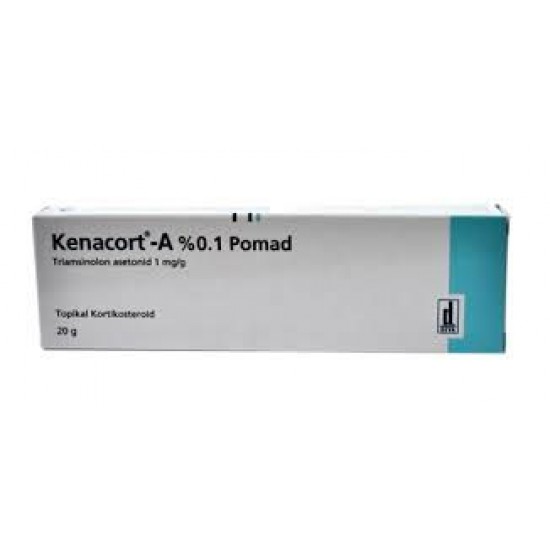 New Hot
Kenacort-A 0.1% Pomade 20 g
KENACORT-A 0.1% POMADE 20 G. (triamcinolone acetonide)
INSTRUCTIONS FOR USE
• Active ingredient: Each 1 g of emollient dental paste of 1 mg (0.1%) of triamcinolone acetonide
• Excipients: Orahesif powder (gelatin powder type A, pectin, sodium carboxy methyl cellulose), Plastibase (mineral oil and polyethylene Bakelite)
using this drug Please read this INSTRUCTIONS carefully before you start, because it contains important information for you.
• Keep these instructions for use. You can need to read again.
• If you have other questions, please talk your doctor or pharmacist.
• This medicine has been prescribed for you personally, please do not give it to others.
• When using this medicine, tell your doctor that you are taking this medicine when you go to a doctor or hospital.
• Follow the instructions in this manual. Do not use high or low doses other than the recommended dose for the drug.
In these Instructions for Use:
1. What is KENACORT-A and what is it used for? 2. Cautions before using KENACORT-A 3. How to use KENACORT-A? 4. What are the possible side effects? 5. Storage of KENACORT-A
Headers are included.
1. What is KENACORT-A and what is it used for?
KENACORT-A is available in 5 g aluminum tubes containing 1 milligram triamcinolone acetonide in 1 g toothpaste.
KENACORT-A is a group of drugs called corticosteroids which reduces inflammation. The active substance is in a paste and adheres to the moist areas inside the mouth to form a protective film layer.
KENACORT-A is used in the treatment of wounds, gums and inflammation caused by dentures or injuries in the mouth.
2. Cautions before using
KENACORT-A DO NOT use KENACORT-A in the following cases,If you
•are allergic to any substance of the composition of Triamcinolone acetonide or KENACORT-A or a similar group of drugsIf you have a
•skin tuberculosis If,
• particularly varicella (chickenpox) or herpes simplex (cold sores) comprising viral (viral) If you have a skin infection,
• If fungal or bacterial infection in the skin (the doctor if they treating antifungal or antibiotic)
KENACORT to the following USE CAREFULLY:If you have

•ulcers or diabetes (diabetes) If these warnings are valid for you at any time in the past, please consult your doctor.
Use of KENACORT-A with food and drink Kenacort-A does not interfere with food and drink; however, it is recommended to use it after meals because it is applied into the mouth.
Pregnancy Consult your doctor or pharmacist before using the medicine. If you are pregnant; You can only use KENACORT-A if your doctor decides that it is absolutely necessary. If you notice that you are pregnant during your treatment, consult your doctor immediately.
Breastfeeding Consult your doctor or pharmacist before using the medicine. If you are breastfeeding; You can only use KENACORT-A if your doctor decides that it is absolutely necessary.
Use of tools and machines KENACORT-A does not affect your ability to drive and use machines at the recommended doses
. Please inform your doctor or pharmacist if you are currently using any prescription or non-prescription medication or if you have recently used it.
3. How to use KENACORT-A
Instructions for proper use and dose / frequency of administration: Use
your doctor in an amount sufficient to cover the area where it is to be treated. Apply twice or three times a day, preferably after meals before bedtime.
Application path and method: Lift the lid. Dry the part to be treated in your mouth and spread it with a small amount of dry and clean finger. Do not rub. Use after meals in order to increase the duration of oral cure. Avoid eating or drinking anything immediately after applying KENACORT-A.
Your doctor or dentist will tell you how long you should use the pomade. Inform your doctor or dentist if the symptoms persist after a period of treatment.
Do not use KENACORT-A with different age groups more than recommended by your doctor or dentist in children as well as in adults. Do not use more than five days in children.
Special handling cases No special handling conditions.
Talk to your doctor or pharmacist if you have an impression that KENACORT-A is too strong or too weak.
If you forget to use KENACORT-A: If you forget to use KENACORT-A, apply the missed dose as soon as possible. Do not take double doses to compensate for forgotten doses.
Effects that may occur when treatment with KENACORT-A is terminated.
4. What are the Possible Side Effects? Like all medicines, there may be side effects in people who are sensitive to the substances contained in KENACORT-A. Depending on long use systemically absorbable. Side effects usually occur in infants (0-1 years), in children and on dentures.
If you notice any of the following, tell your doctor immediately or contact your nearest hospital emergency department:
- Activation of the ulcer - Changes in glucose and protein metabolism - Adrenal suppression (reduction in hormone production) These are all serious side effects. Emergency medical intervention may be required. These side effects are generally reversible and will disappear when treatment is discontinued. Serious side effects are very rare. These side effects can be seen as a result of long-term administration and are generally not permanent. The treatment disappears when discontinued.
The following local reactions occur in corticosteroid dental ointments: burning, itching, irritation, dryness, non-shedding before treatment, perioral dermatitis, allergic contact dermatitis, oral mucosal maceration, secondary infection and oral mucosal atrophy.
Inform your doctor or pharmacist if you experience any side effects not mentioned in these instructions.
5. Storage of
KENACORT-A Keep KENACORT-A in a place where children cannot see, reach, and pack.
Store at room temperature below 25 ° C. Do not store near the radiator, on the windowsill or in the bathroom.
Be sure to tightly close the cap of the tube after use.
Use in accordance with expiration dates. Do not use KENACORT-A after the expiry date indicated on the label or packaging.
Dür Expiration Date ın is the last day of the specified month.
Do not use KENACORT-A if you notice any defects in the product and / or its packaging.