Norvasc 5mg 30 tabs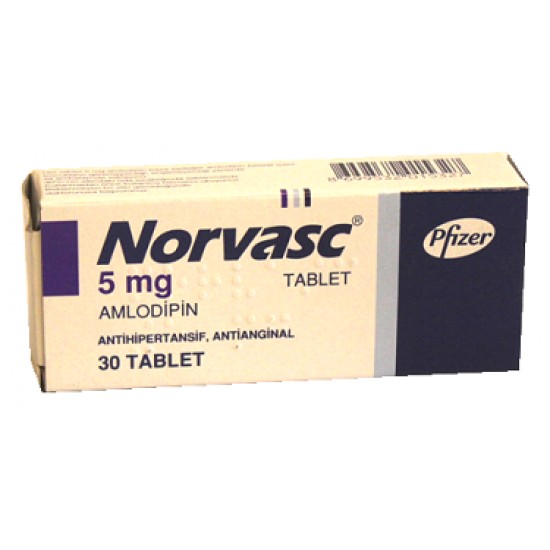 Hot
Norvasc 5mg 30 Tabs

Norvasc is a long-acting calcium channel blocker that is used in the treatment of hypertension.
Along with hypertension Norvasc is also used in the treatment of angina, a condition characterized by episodes of crushing chest pain.
Norvasc / Amlodipine helps control high blood pressure for a full 24 hours. And Norvasc / Amlodipine can be used to treat the chest pain of angina.
Norvasc / Amlodipine works to relax your blood vessels, allowing blood to flow more easily through them. The end result is lower blood pressure and less angina.
Norvasc / Amlodipine has been shown to work for many types of patients. Norvasc / Amlodipine even works for patients with mild, moderate, or severe levels of high blood pressure.
Active Ingredient: Amlodipine
norvasc-10mg-amlodipine
norvasc-5mg-amlodipine

Active Ingredients: Amlodipine Besylate

Manufacturer: Pfizer

Origin: Turkey


Pharmacological effect: Norvasc contains an ingredient called amlodipine. This medication takes part of a group named calcium channel blockers. It eases the blood vessels so the blood may flow easier.

Usage: Norvasc is used in treatment of hypertension. It may prevent the strokes, heart failure and problems with kidneys. This medication also may treat the angina and decreases the number of angina attacks.

Aftereffect: Administration of Norvasc may lead to different undesirable effects. More usual reaction is swelling of the feet. Abnormal reactions are: giddiness, troubles with breathing, irregular pulse or heartbeat, redness, wheezing, unusual bleeding, weakness and problems with stools.

How to administer (optionally): The initial dosage is 5mg per day regardless of food. Your doctor may increase the dosage till 10mg. Swallow the pill whole with water. Administrate Norvasc every day at the same time.